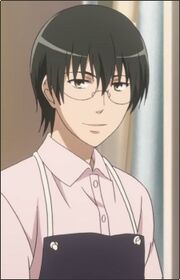 Yoshiki (ヨシキ)

[

]
The manager of the sewing equipment shop where Soichirou finds materials to fix Yuuko's toys. Soichiro addresses Yoshiki with respect, while Yoshiki calls him by the nickname "Hina" and constantly teases him.
Her real name was Hison, the woman who was the cause of misunderstanding between Souichirou and Renji.

She was the love interest of Souichirou and Renji - which both guys sworn not to woo her unless one of them found a better girl than her.

She worked in a club, which was backed by Gotouda Group, in Shin-Ookubo. Eventually she became the mistress of the leader of Gotouda Group.

The wife of the leader soon learned of the affair and that she was pregnant with her husband's child. Outraged with jealousy by the matter, she confronted Hison and stabbed her on her stomach. Soon Souichirou arrived at the scene, but realized nothing could be done - he later blamed himself for not able to keep the promise to protect Hison by hiding the truth from Renji.

The Gotouda Group's men brought Hison to the hospital in time and the doctor's managed to save her life at the cost of the death of the unborn child and her womb and ovaries extracted. The leader of the group, who divorced his wife after the incident, learned of the news then gave her a lump sum of money and buried the incident in the dark with few knew about the incident.

Souichirou used the money and rent a floor of a building in Kita-Senju for Hison, who had changed her name to Yoshiki to hide away from the past as she felt that she had lost the ability to be a woman.