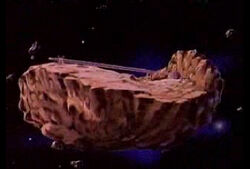 Sinope was one of the farthest moons of Jupiter.
Fiction
[
]
Exosquad

[

]
"Sinope Base" was the location of Phaeton's top-secret super-weapon, Fusion Pulse Cannon, designed to wipe out both the Pirate Fleet and Exofleet's base on Io. However, the Cannon only managed to fire roughly a dozen bursts at the Pirate Fleet before a combined Exotrooper-Pirate task force damaged the core of the weapon's "energy silo", causing an explosion which completely destroyed the cannon and obliterated Sinope.
Its debris caused a "meteor swarm" that heavily damaged the Neosapien fleet under the command of General Typhonus, who was on his way to directly attack the Pirates and Io Base. The Neosapiens were forced to retreat, which gave the Terrans enough time to evacuate. After the Neosapien War, Sinope was later restored with the GRAF Shield.
Transformers: Universe

[

]
| | |
| --- | --- |
| | This page is under construction. Need help. |