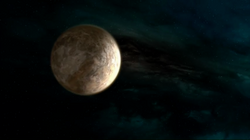 Shogo 162 was a planet that served as the Toonami broadcasting location from December 19, 2015 to November 26, 2016. After the destruction of the GPS Absolution Mk. III during The Intruder II, TOM escaped to Shogo 162, a desert planet with a decommissioned base. It was here that TOM was able to restore SARA and his left arm. During The Intruder III, the planet imploded, just as the crew escaped aboard the Vindication, which was revealed to be an ancient space vessel.
Sometime after the events of The Intruder II, Jason DeMarco tweeted "OOOOH and I almost forgot! #Toonami fans- we'll be on that base for a good long while. Wanna name it? We'll be asking soon...and picking!" On February 8, 2016, the Toonami Facebook page asked for name suggestions for the base, with the winning name, Vindication, being announced in the Toonami: Pre-Flight episode released on February 26, 2016.
Other than the Vindication and the immediate surrounding area, none of the planet's surface was explored due to weather issues. However, it was revealed during The Intruder III, that the planet's atmosphere has a large amount of Feldspar in it, and the planet does have arthropod life such as insects and giant worms.
Nintendo WorldEdit
Shogo 162 appeared in the Metroid series in Nintendo World. It is a planet several light years away from Planet Inos. It served as the homeworld of the sand worms and habitat of the devious Space Pirates after the destruction of Tourian on Zebes. Scurge were native to the planet as well.
Samus and Jenosa Arma discovered a decommissioned base on a desert planet Shogo 162, which was revealed to be an ancient space vessel.
Shogo 162 is the third of five planets to be destroyed by Samus Aran, even if not her intention due to its implosion, the others being Dark Aether, Phaaze, Zebes and SR388.
The Golden Temple
Hydro Station
Industrial Complex
Research Site
Mining Facility
The Tower
Power Plant
Distribution Center
G.F.S. Thoth
S&R Hideout
The Nest
Genetics Laboratory.