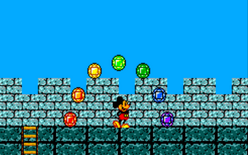 The Rainbow Gems were a enchanted gems.
Description
[
]
The Rainbow Gems are a set of identically-shaped but differently-colored jewels created by the witch Mizrabel. When gathered, the Gems were the only way to create a bridge between her turret and the rest of the Castle of Illusion. As such, she had entrusted each to one of her Masters of Illusion as a defence against intruders.
Behind the scenes
[
]
The Rainbow Gems were the Macguffin of the 1990 video game Castle of Illusion and its 2013 remake.
Trivia
[
]
In HD remake, the models of the Rainbow Gems are actually reused Chaos Emeralds (major recurring items in the Sonic the Hedgehog series) models from Sonic Generations.