Jurassic World: Dominion Dominates Fandom Wikis - The Loop
Play Sound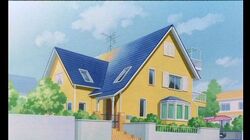 The Kinomoto's House is a major location in Cardcaptor Sakura. It is the home of the Kinomoto family, consisting of Fujitaka, Toya, Sakura, and formerly Nadeshiko. Cerberus and the Clow Cards later become residents after Sakura finds the Clow Book in the basement. It is located in Tomoeda.
Layout
[
]
The Kinomoto house is a two-story detached house built by Fujitaka and Nadeshiko the year Toya was born. It has yellow painted walls and a dark-coloured roof, and two balconies, one outside Fujitaka's bedroom, and a second in the loft. Fujitaka parks his car in the front drive, which is protected by a purple-coloured shelter, where a neighbourhood cat commonly naps. The house has a small side yard complete with a porch. The house is accessed via a small number of steps from the street.
The interior consists of the ground floor, the first floor, a loft, and the basement. The ground floor consists of a lounge, kitchen and adjoining dining area, the bathroom, a laundry room, and Fujitaka's study. The lounge has access to the back garden, featuring a large sofa unit and television set where Sakura often watches programmes about ancient or unusual buildings. The kitchen is small, with a cooking unit at the back of the room and a dining table with room for four. A framed photo of Nadeshiko sits on the table in her memory.
Upstairs features Fujitaka's room, Toya's room, Sakura's room, and a staircase leading to the loft where the family hang their laundrey. Fujitaka's room is quite large, featuring a piano that Toya was taught to play by his mother. Toya's bedroom is only glimpsed a couple of times.
Sakura's bedroom is a significant location, namely where she hides Kero and the Clow Cards. Her room has yellow walls, a wooden floor, and a two windows, one that overlooks the front porch. Sakura's has a single-sized bed, a shelf running behind it where an alarm clock, a mirror, and a doll created by Tomoyo Daidouji sits resembling Sakura during the Final Judgement. She has a desk of drawers opposite her bed, where she keeps the Clow Book in one draw, and Kero renovates the bottom draw as his home. Another chest of drawers next to that, where a cluster of plush toys sit. Sakura's wardrobes line the southern wall.
The basement is the largest room in the house, doubling as Fujitaka's library and contains many books likely related to his studies in archaeology. Here, Sakura found the Clow Book, accidentally releasing the Clow Cards. Sakura later captured The Wood and The Rain Cards here after finding the former in the lounge, and the Rain covered in ink underneath her father's desk. The Little Card was later caught in the house after shrinking Sakura down to the size of a bug.