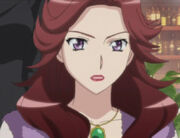 Kanoko Mikadono (帝野 鹿野子/Mikadono Kanoko) is the a character of Kono Naka ni Hitori, Imouto ga Iru!.
History
[
]
Following the death of her husband and President of the Mikadono Group, Kumagorou Mikadono, Konoe temporary assumed control over the corporation until their son Shougo Mikadono wass ready to take over. She however was obvious to the fact that her assistance Risa Seri had been working in secret with the Mikadono Group's business competitors to undermine Shougo's bid for the corporation.
In the light novel, it was revealed that while Konoe Tsuruma was Kumagorou's illegitimate child, Shougo's real father was also not the late president. The revelation allowed Shougo and Konoe to marry each other. Kanoko herself remarried Miyabi Kannagi's father, which made Shougo and Miyabi step-siblings.