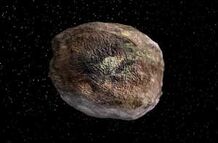 Isonoe, also known as Jupiter XXVI, is a retrograde irregular-shaped moon belonging to the outer planet of Jupiter. This satellite was discovered by Scott S. Sheppard, Yanga R. Fernandez, David C. Jewett, and Eugene A. Magnier on November 23, 2000 at the Mauna Kea Observatory. This satellite belongs to the Carme group, a group of retrograde irregular satellites belonging to the planet of Jupiter.
Formation
[
]
It is believed that a D-type asteroid, from the Hilda family or Jupiter Trojans, went stray into deep space. After being pulled into Jupiter's gravitational pull, it suffered numerous collisions. The leftover debris became the other sixteen satellites of the Carme group, with Carme being the largest.
Surface
[
]
Isonoe is three-fourths grey on the frontal part, not displayed in the picture. The picture only displays the other fourth of Isonoe, that is hilled, rocky, and has dark gray mountainous areas, uncommon on most moons of the Carme group. Isonoe also has patches of yellow on the mountainous valleys and different areas that have high readings of craters. The front part of Isonoe does not contain craters, valleys, or mountainous areas.
Fiction
[
]
| | |
| --- | --- |
| | This page is under construction. Need help. |