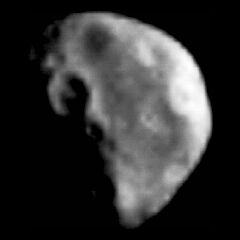 Dactyl is the only confirmed satellite belonging to an asteroid. Dactyl is the only known satellite belonging to the asteroid Ida. The surface and composition of Dactyl matches that of Ida closely. The surface of Dactyl is heavily cratered and contains many similar materials to Ida, yet it is not massive enough to create its own regolith. Dactyl was first photographed by the Galileo space probe in the flyby in 1993.
Surface
[
]
The surface is cratered, similar to Ida's surface. The surface is similar to that of Ida's as well, being -80 degrees Celsius. The craters on the surface of Dactyl only reach about 300 feet in diameter at the largest.
Orbit
[
]
Dactyl is believed to orbit Ida at a speed of thirty feet per second. This is extremely slow, compared to different celestial bodies in the Solar System. This is only the speed increase of falling objects of Earth each second, yet within a realm of millions of miles, this is still extremely slow.
Fiction
[
]
| | |
| --- | --- |
| | This page is under construction. Need help. |
Video Game
[
]