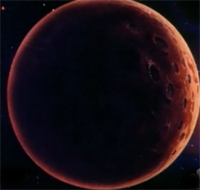 Chaos was the tenth planet of the Solar System and home planet of the Pirate Clans.
Geography
[
]
Chaos was discovered by the Pirate Clans during their exploration of the Outer Planets. Chaos is comprised of new element called Dark Matter, which gives Pirates their Cloaking technology and makes Chaos virtually invisible to detection systems on ships.
History
[
]
Chaos was the home planet of the Pirate Clans. There the Pirates lived in peace as Chaos was undiscovered by the Exofleet or the Neosapiens or the Drej. After the Pirate Clan and Exofleet alliance during the Neosapien War, the ExoFleet abandoned their Io Base and fled to Chaos to rebuild their fleet on the dry docks and establish a new base to launch their campaign to liberate the Homeworlds.
Places of Interest
[
]
Trivia
[
]
Planet Chaos is the only planet that was not reclassified as a

dwarf planet

unlike Pluto.