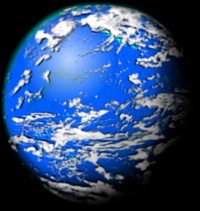 Callisto is an ice-covered moon of Jupiter, and the third-largest moon in the Solar System behind Ganymede and Titan.
Little terraforming was done on Callisto and as such it remains a cold and desolate natural satellite. Existing on the outskirts of inhabited space, Callisto has become a refuge for illegal groups and trades. The Moon is modeled after Moscow/St. Petersburg.
Demographics
Edit
The population of Callisto is almost entirely male. As such there are also very few families or children.
Cowboy BebopEdit
Transformers: UniverseEdit