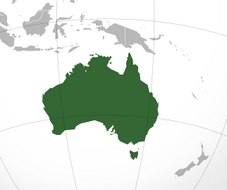 Australia, officially the Commonwealth of Australia, is a country in the Southern Hemisphere comprising the mainland of the Australian continent, the island of Tasmania, and numerous smaller islands in the Indian and Pacific Oceans. It is the world's sixth-largest country by total area. Neighboring countries include Indonesia, East Timor and Papua New Guinea to the north; the Solomon Islands, Vanuatu and New Caledonia to the north-east; and New Zealand to the south-east.
Australia is an island continent in the Southern Hemisphere. The gang has been there on more than one occasion.
Laff-A-LympicsEdit
Insert details here. (France and Australia)
The New Scooby and Scrappy Doo Show
Edit
Insert details here. (Scooby Roo)
Scooby-Doo! And The Legend Of The VampireEdit
Insert details here.
Scooby-Doo (DC Comics)Edit
Insert details here. (It's Always Feral Weather)
Insert details here. (Great Barrier Creep)
What's New, Scooby-Doo?Edit
Season three
Edit
Insert details here. (Reef Grief!)
Transformers: UniverseEdit
Appearances
Edit
81(a). It's Always Feral Weather
147a(a). Great Barrier Creep
Cities and Locations
Edit
Actors and crew born in Australia
Edit